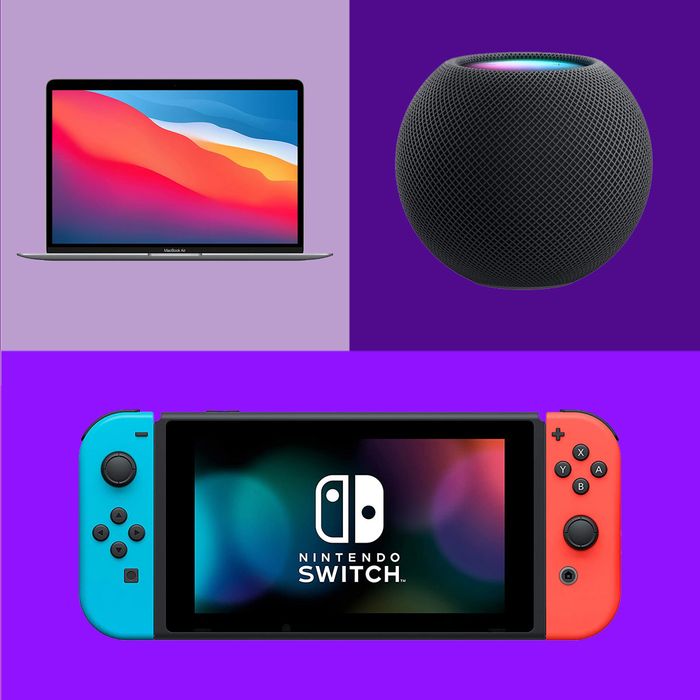 Photo-Illustration: Strategist, Photos: Retailers
If you're not a tech person, it can be hard to keep up with the hottest new gadgets. (It's hard even when you are a tech person, but I do my best.) Luckily, people like Lesley Rohrbaugh, the research director at the Consumer Technology Association, are willing to help. For the past 27 years, the CTA has produced an annual report on consumer-technology holiday-purchasing patterns. I spoke with her for the second year in a row, and she says the 2021 report provides insights into a whole new batch of must-have recommendations. There are some repeats from last year like the latest iPhone and various laptops along with newcomers like streaming services and smart-home devices. And while popular options like Spotify gift cards are never going to sell out, plenty of the other items she mentioned will — especially when you consider the supply-chain issues driving people to shop earlier this year. (According to Rohrbaugh, 68 percent of shoppers are getting a bigger jump than ever on holiday shopping.) To take advantage of this early push, retailers will likely offer sales earlier — which will get more people shopping early, which will make finding the perfect tech gift even more competitive. That's why we assembled the following list of gifts, which fall into the categories Rohrbaugh says will be hot this year. It's probably best not to dillydally. And a holiday shipping note: Some items are still available for expedited shipping and will still arrive in time for Christmas if you order quickly, others will arrive after or are available for in-store pickup at select locations.
Rohrbaugh says smartphones of all types will again be among the most desired holiday gifts. This year, Apple, Google, Samsung, and others released phones that operate on the faster 5G spectrum, which wireless carriers are trying to shift customers to. Rohrbaugh says the CTA noticed an increased interest in foldable phones, which have improved in quality recently and are (slowly) becoming more affordable. If buying someone a new phone isn't within your budget, you can get them accessories like headphones, phone cases, and chargers.
The newest iteration of the iPhone doesn't include any flashy changes, but everything under the hood has been improved. There's a better dual-camera system and a faster chip, and Apple says the new battery should last two and a half hours longer than before. It has 5G capabilities, wireless charging, and Apple's MagSafe technology, which uses built-in magnets to attach accessories to the phone. The cameras have larger sensors for better photos and better image stabilization while recording video.
Stepping up to the iPhone 13 Pro gives you an even better battery life, a third lens, and higher picture quality. Like the 13, the 13 Pro offers Cinematic Mode, allowing the camera to focus on specific objects and add a seamless bokeh effect while recording video. The 13 Pro has an improved screen with a more adaptive and responsive refresh rate; instead of staying at a constant 60Hz, the new refresh rates vary from 10Hz all the way up to 120Hz.
The OnePlus 9 is a midrange smartphone that holds its own against titans like the iPhone and Galaxy phones but at a much lower price. The Verge says it has all the things that matter: "a great screen, excellent performance, good battery life, and a capable camera." It's worth noting the camera takes excellent ultrawide shots — perfect for landscape photos — and the phone charges superfast. The OnePlus has a top-of-the-line processor, and you can choose between 8 GB and 12 GB of RAM.
The Verge deputy editor Dan Seifert writes, "The story of folding phones thus far has been one of compromise." But the Z Flip3 is the first folding smartphone to challenge that. "Its screen runs at a smooth 120Hz, just like Samsung's other flagships. It has a new, allegedly more durable construction, plus IP water resistance, just like you'd expect on a modern phone," he says. But most important: "Its starting price is $1,000, $450 less than the launch price of the Z Flip 5G it replaces. That puts the Flip3 on the same price level as many high-end, non-folding phones."
Rohrbaugh says laptops are again at the top of people's wish lists with an array of options from Apple and Google and some excellent ones for gaming.
Four of the experts we talked to in our laptop guide recommended the MacBook Air 13-inch. A word of warning: Apple is expected to announce new laptops in the coming months, so if you want the best available, you might want to wait. But those new laptops should come with great deals on last year's Air and Pro stock, too, as retailers make space for the latest models. Of last year's computers, Monica Chin, our colleague at the Verge, says, "The new processor is the star of the show here; it's fast. In our testing, it handled intense photo- and video-editing workloads better than almost any Intel-powered laptop we've tried this year." The 256 GB of storage in the base model is plenty. Miguel Meléndez, a p.c. expert at B&H Photo Video, recommends the latest MacBook Air. He says 8 GB of RAM is great "for people who like to have a lot of tabs open at the same time" or those who need to edit photos or videos.
Editor's note: The Apple 13-inch MacBook Air is still available but will arrive after Christmas.
The Macbook Pro is a step up from the Air thanks to its built-in cooling fans, which enable the laptop to handle heavy workloads for longer without the need to lower its performance. The laptop is able to handle a lot of open windows and internet tabs, and it can run multiple programs at once — perfect for anyone who wants to do any sort of audio, video, or photo editing.
Editor's note: The Apple 13-inch MacBook Pro is still available but will arrive after Christmas.
The Verge calls the latest MacBook Pro 14-inch one of "the fastest laptops we've ever tested in some tasks, with some of the longest battery life we've ever seen." The latest Pro has an incredible display and strong performance, and it's noticeably missing the quirky Touch Bar. Back in are much-needed HDMI, SD card, and MagSafe charging ports, which were previously replaced with multiple USB-C ports. "Apple seems to have come back to reality in terms of design," says the Verge. "Adding some useful ports and ditching the Touch Bar are just smart, practical choices, and honestly worth the upgrade for many people."
Editor's note: The Apple 14-inch M1 Pro is still available but will arrive after Christmas.
The XPS 13 is well built with a powerful processor and a vibrant 13-inch screen with almost no bezel — so you'll have that extra bit of room on your 4K screen to move around windows, browse the web, and play games. The Verge tested it and recorded seven hours of battery life and three hours of light gaming. The keyboard and touch pad feel smooth and responsive, and it weighs only 2.8 pounds.
According to the CTA's survey, 196 million people plan on installing a smart-home device this year. The good thing is you don't have to worry about getting smart gifts that are overly complicated. Many have been simplified so everyone can benefit from them.
This inexpensive and underrated smart-home gift "lets you set up simple daily on-off schedules," says Strategist contributor Kyle Schurman. "You can have the Wyze turn on any time one of your other smart devices is activated. For example, if someone approaches your video doorbell, you could have a lamp in the window automatically turn on to make it look like someone is home."
This is another inexpensive smart plug that works with Google, Alexa, and Apple's HomeKit. You can create a schedule for any device connected to your smart plug, and its compact design won't needlessly block other power outlets.
The smart speaker is the brains of your smart-home operation — the Professor X, Tony Soprano, or Iron Man of the whole situation. The Echo plays music and gives you news and weather updates, but most important, you can use it to control your other smart-home appliances, including the new robot, thermostat, and other devices Amazon recently announced. All you have to do is be within earshot of your speaker and say, "Alexa, turn on the lights."
Editor's note: The Echo is still available but will arrive after Christmas.
If you prefer Google, try the Nest Mini. You can easily tuck the little hockey puck into a corner so your smart speaker is less of a focal point in the room.
The Sonos One is a smart speaker with a bit more flash. It's not overly complicated to set up or use, and since it comes from an outstanding speaker company, the sound quality is much better than what you get with Amazon or Google.
The Eufy RoboVac is designed to be ignored. Just plug it in and set the schedule. It's smart enough to avoid ledges, it can alert you any time it gets stuck in a certain area, and it adapts to carpets or hard surfaces automatically. You control it with the app or your smart speaker.
The two-meter base kit of Philips Hue Smart Lightstrip allows you to connect the strips to bed frames, behind computers, or underneath a desk. You can easily change the colors of the lights for any mood. You can also sync your games or movies with the lights by using your PC with the Hue Sync app.
These dimmable LED light bulbs are easy to set up, create a warm ambient light, and are a nice home upgrade for anyone looking to be more energy efficient.
This LED light bulb can be set to any color of the rainbow using the accompanying smartphone app with Google or Alexa.
"It has a high-resolution screen, attractive design, and dual-band Wi-Fi connectivity, which reduces interference with other devices and improves overall performance," says Strategist contributor Kyle Schurman. "Plus it comes with a remote sensor that lets you base temperature settings on a room other than the one the thermostat is mounted in." Schurman says the Ecobee has excellent voice-control integration, so you can ask Alexa or Google to change the temperature in your living space.
This smart lock has a proximity feature that unlocks automatically when your Bluetooth- or NFC-enabled phone is within range. It's easy to share access to your home with other members of the household or visiting guests, and you can use it with your existing deadbolt and keys — but with the August smart lock, you'll have the option to open the door hands free.
This is the Strategist's best-selling smart garden and comes recommended by several experts. It has space to grow three plant pods at a time, and you can choose from over 50 different types of plants.
The CTA says consoles will again be among the most popular tech gifts this holiday season. There's only one problem: You're going to have to get really lucky to find one — especially if you're looking for a PlayStation 5 or the latest Xbox Series X. Since launching this year, both consoles have experienced constantly fluctuating stock. Getting one is no longer impossible, but it's still plenty hard, so if you do see one somewhere, grab it.
The Switch is one of Nintendo's most popular consoles. After a shortage last year left us scrambling, it has gotten a little easier to find one. That's partly because demand has gone down a bit but also because Nintendo released an upgraded OLED-screen version of the Switch for $350. (Along with the new screen, that model has a more adjustable stand, a built-in LAN port for online gaming, and enhanced audio.) But don't sleep on the OG Switch. It's still considered one of the best gaming consoles around with games like Animal Crossing, The Legend of Zelda, and Pokémon. You can easily switch from handheld to docked mode, which allows you to play games on your television. Plus it has features that allow you to play classic NES games online.
Editor's note: The Nintendo Switch is currently available for pick-up at Best Buy and Target. We will be monitoring the situation and updating this story in response.
If you don't mind the inability to dock your switch and connect it to your TV, the Switch Lite is a fine (and readily available) alternative.
Editor's note: The Switch Lite is currently out of stock. Again, we'll continue checking stock and updating this story frequently.
Susanna Pollack, president of Games for Change, told us Quest 2 is a great gift for the avid gamer. "It offers a premium consumer experience in virtual reality, with stunning visuals and controls that let you interact naturally," she says. Polygon calls it the best value you can get in VR right now. Even Neil Patrick Harris is a fan: "I'm fascinated by all of the different ways it can be used for literally any age," he says.
Our colleagues at the Verge describe the PS5 as having "faster speeds and a more immersive controller, which all add up to a markedly better experience compared to the PS4 by every conceivable metric." They loved the responsive new DualSense controller and the user interface, which is more inviting compared to the last generation's clunky menus. Load times for the new PS5 is slashed nearly in half, leaving you with more time to spend gaming and less time waiting.
Editor's note: Both PlayStations are out of stock, but we'll keep an eye out and update this story as necessary.
According to the Verge, the flagship Series X brings a p.c.-like experience to a console. It's faster and looks nicer with up to 8K resolution and a 120 fps frame rate. For $200 less, the Series S is still an excellent experience. It can't handle 4K, but most games play best at 1080p, the Verge says. And though the Series S hard drive is half the size of the Series X, that is a significant step up compared to the prior generation Xbox One X.
Editor's note: Same deal here — the Xbox Series X is out of stock at the moment, but it's worth checking daily for updates. However the Series S is available at the moment. We'll keep an eye out, too, and update as needed.
The good thing about the gifts in this category is they're online and easily accessible, so you can share them with friends and family at a relatively low cost. Plus they never sell out.
Not only will the recipient of this gift be able to go head-to-head against other online players, they will also get access to a curated list of classic NES games they can play online.
Apple Arcade comes recommended by Andrew Webster, games editor at The Verge. It offers high-quality games and a more streamlined gaming experience compared with the regular games you find in the App Store. When we interviewed gamers to find alternatives to the frequently sold-out Nintendo Switch, three of them recommended Apple Arcade.
Xbox Game Pass Ultimate is the best value when it comes to video-game subscription services. It gives you access to hundreds of games, discounts on future game releases, and an Xbox Live Gold membership, which allows you to play online against others.
Similar to the Xbox Game Pass, the PlayStation Plus membership gives you access to new games each month and lets you play online against friends and other gamers.
When bought as a gift card, Spotify's hugely popular music-streaming service costs $20 less than normal.
Perfect for that person who is desperately waiting for the new season of Ozark or wants to check out Squid Game.
Or maybe they haven't gotten a chance to watch Only Murders in the Building.
The Strategist is designed to surface the most useful, expert recommendations for things to buy across the vast e-commerce landscape. Some of our latest conquests include the best acne treatments, rolling luggage, pillows for side sleepers, natural anxiety remedies, and bath towels. We update links when possible, but note deals can expire and all prices are subject to change.