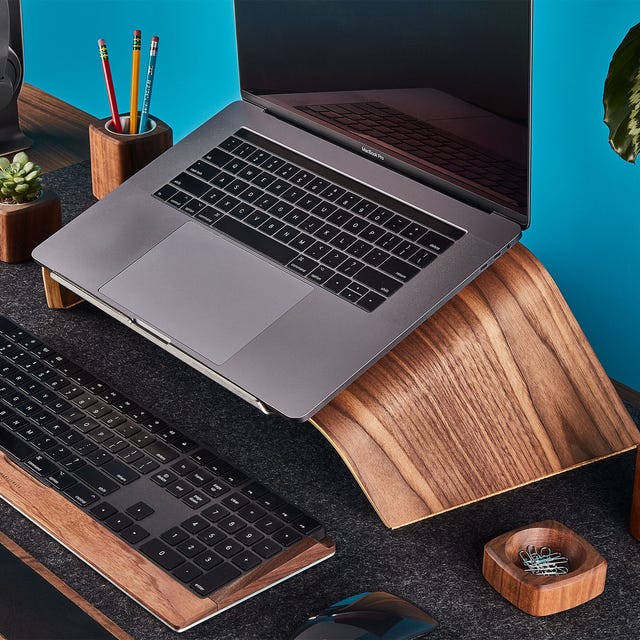 Grovemade
A laptop stand might seem unnecessary but it has a simple, important job: to make you more comfortable while you work. It raises the laptop's screen so you don't have to hunch over it, which puts more strain on your neck and back. It also raises the keyboard, which alleviates pressure on your wrists.
That said, laptop stands come in all different shapes and styles (as well as prices). The most important thing is that you want to make sure you get the right laptop stand for your work setup.
What to Look For
Do you use a separate keyboard and mouse? If you don't use a wireless keyboard and mouse, you want a stand that keeps your laptop close — because you'll still need to comfortably use its keyboard and trackpad. If you have a wireless keyboard and mouse, you can have a stand that elevates your laptop's screen higher off the desk.

Do you use an external monitor? If you have an external monitor, you have a few options. You want to get a horizontal stand if you use the screen of your monitor and your laptop. But if you close your laptop and have it in "closed-display" mode, you can get a vertical laptop stand which allows you to store it so it doesn't take up as much desk real estate.

Do you travel for work? The other thing to consider is if your laptop stand will be a permanent solution on your desk or if you need to be more mobile. While a lot of people are planning to work remotely for a while, some people have to travel and need a more mobile workstation. You can buy a laptop stand that's lightweight and collapsible, and thus more portable.

Adjustability: Some laptop stands are fixed, some are height adjustable and some are completely collapsible and therefore great options for the person on-the-go. Depending on your needs and work habits, you want to make sure you get the one that's the best fit.

Price and materials: This one is pretty obvious, but you can buy a laptop stand for pretty cheap or pretty expensive. Most of the time, the materials that the laptop stand is made of will be the number one thing that drives up the price. The reality is that most people want a laptop stand that makes their workstation look nice, and those tend to be a little pricier.


Why You Should Trust Us
We've been writing about and reviewing computers and accessories — including mice, keyboards, monitors, storage solutions and other peripherals — for near-on a decade. We also work with brands and talk to experts within the audio industry. The below selections of laptop stands are a combination of products that we've had hands-on experience with as well as products that are made by brands we trust.
Advertisement – Continue Reading Below
1
Best Overall
Twelve South Curve
Twelve South makes accessories specifically designed for Apple products and this laptop stand is no different. Apple even sells it. But even if you don't have a MacBook, its backless design will accommodate most laptops. Designed to elevate your laptop 5.8 inches off the desk surface, this stand aligns your screen with an external monitor (if you have one). It's also made of aluminum and comes in Space Gray, meaning it'll blend in naturally with the latest MacBooks and MacBook Pros.
2
Best Upgrade
Grovemade Walnut Laptop Stand
Grovemade's entire Desk Collection is pretty stunning. This Monitor Stand stands out for its simplicity and elegant design. It makes the wood the star of the show, and it comes in walnut or maple. You'll pay a little more for the stylishness, but you are going to be staring in the general direction of this thing most of the day.
3
Best Budget
Satechi Aluminum Laptop Stand
This is a great budget option if you're looking for an ergonomic and minimalist laptop stand. It has rubber grips at its base to prevent sliding and even a cutout for cable management. But best of all, it's very lightweight and has a completely collapsible design, meaning it's travel solution if you find yourself frequently on the move.
The ParcSlope is the newest stand by Twelve South and it's interesting because, despite its simple design, it actually pulls double duty: it fits both for your MacBook Air/Pro and your iPad perfectly. It angles your laptop so you get a more comfortable typing position. And it does the same thing for your iPad if you draw or take notes with the Apple Pencil.
5
ObVus Solutions Laptop Tower Stand
The Tower Stand effectively does the same job of a standing desk. Its sturdy base and adjustable height allow you to quickly switch between working sitting down and standing up. Plus, since it's so small and lightweight, you can easily move it. (Most standing desks are very heavy.)
This vertical stand is pretty for people who use an external monitor and have their laptop in "closed-display" mode. It's arc-shaped design elevates your MacBook Pro or MacBook Air off the desk, so it looks nice. You can buy it in either silver or space gray.
7
Grovemade Wood MacBook Pro Dock
Grovemade's elegant vertical stand is made of a combination of hardwood (walnut or maple), stainless steel and merino wool felt. It's a beautiful and minimalist solution for those who use their laptop with a external monitor.
Moft's take on the laptop stand is unlike anything else. It's a desk mat that lies flat on your desk, but, thanks to a built-in stand, can elevate and turn into a full-on, adjustable laptop stand. It's designed for either a MacBook or iPad, but it also comes with integrated holders for your other Apple gadgets, such as AIrPods, iPhone, Apple Pencil and Apple Watch.
9
Herman Miller Oripura Laptop Stand
Herman Miller's laptop stand is lightweight, portable and collapsable. It folds down so that's completely flat, making it super easy to slip into a laptop case or sleeve in your backpack. It's designed to be used with a wireless keyboard and mouse as it elevates your laptop a few inches off the desk. It's only available in white.
Frankly, the Yohann MacBook Stand is unlike anything else. Yes, it's minimalist and it's made of wood, which are two boxes that a number of other stands on this list also check. But this stand elevates a MacBook in a way that looks both precarious and magical. If you're looking for a stand that's a statement piece, this is it.
11
Laptop Table Stand Adjustable Riser: Portable with Mouse Pad Fully Ergonomic Mount Ultrabook MacBook Gaming Notebook Light Weight Aluminum Black Bed Tray Desk Book Fans Up to 17 inch
12
Wall Desk by Nordic Appeal
The Wall Desk definitely stands out from the pack. It's beautiful, fashioned completely out of oak or walnut. You can also use it as a wall-mounted stand (provided you purchase knobs) that functions as a floating desk.
This content is created and maintained by a third party, and imported onto this page to help users provide their email addresses. You may be able to find more information about this and similar content at piano.io
Advertisement – Continue Reading Below