Last Updated:

If you're looking to see if V Rising laptop gaming is feasible on your current rig, or want to know what the best laptop to play V Rising is for different resolutions and settings, then see below for a list of suitable gaming laptop models. All the information you need to know about running the game, now released on Early Access, you'll find below.
V Rising recommended specifications (desktop)
Below are the official recommended system requirements for V Rising, which should give you a decent standard of FPS performance at 1080p if you're playing the game on a desktop PC. It should be noted that graphics cards are underpowered compared to their desktop components, so to achieve the same level of performance in a laptop you will have to add a bit extra on top (as a rule of thumb, it's generally one SKU higher). Further down this page, we've made some suggestions about specific laptops that we'd recommend to play the game at different resolutions and settings.
OS: Windows 10 64 bit
CPU: Intel Core i5-11600K, 3.9 GHz or AMD Ryzen 5 5600X, 3.7 GHz
Memory: 12GB
GPU: NVIDIA GeForce GTX 1070, 8 GB or AMD Radeon RX 590, 8 GB
DirectX: Version 11
Storage: 7GB
Best gaming laptop to run V Rising at 1080p
If are looking to run V Rising on a laptop at 1080p on the higher graphical presets, then the ASUS ROG Strix G15 Advantage Edition offers unbeatable value. This fully AMD gaming laptop (with a Ryzen CPU, Radeon GPU, and technological synergies to maximize the performance of both combined) hits harder in raw FPS terms than any other gaming laptop in its price range, and comes with either a 1080p 300Hz display option or a 165Hz 1440p screen. If you're looking for something a bit cheaper, and aren't concerned with playing the game on low-medium settings for higher FPS, or at the higher graphical settings but for lower FPS, then also take a look at the best gaming laptops under $1,000.
ASUS ROG Strix G15 Advantage Edition
Best gaming laptop to run V Rising at 1440p
If you're trying to maximize V Rising performance at 1440p / QHD resolution, then you'll want something with a bit more bite, that's if you're looking to push the graphical settings to the max. We'd suggest opting for the Nvidia RTX 3070 specced version of the XMG Neo 15 E21 (in Europe) / Eluktronics MECH-15 G3 (in the US), with 165Hz refresh rate, which is one of the most powerful RTX 3070 gaming laptops available, and actually matches the FPS performance of many RTX 3080 laptops. If you aren't chasing the highest settings then have a look at our best gaming laptop under $1,500 list for some cheaper 1440p options.
XMG Neo 15 E21 / Eluktronics MECH-15 G3 (5900HX)
CPU
AMD Ryzen 9 5900HX CPU
Graphics
Nvidia RTX 3070 (125-140W) / 3080 (150-165W)
Max Refresh Rate
240Hz/165Hz
Best gaming laptop to run V Rising at 4K
Although V Rising isn't the most demanding of games, if you want to run it at 4K on the highest settings, as with any game at this resolution, you'll need a pretty expensive laptop. The reality is that most 4K laptops don't have refresh rates above 60Hz, and those that do cost a pretty penny. Arguably the best 120Hz refresh rate 4K gaming laptops is the ASUS Zephyrus S17 with RTX 3080, but if you don't mind playing the game at a maximum effective 60FPS (this isn't a competitive shooter after all) then the Gigabyte Aero 17 HDR YD is a great, cheaper 17-inch alternative.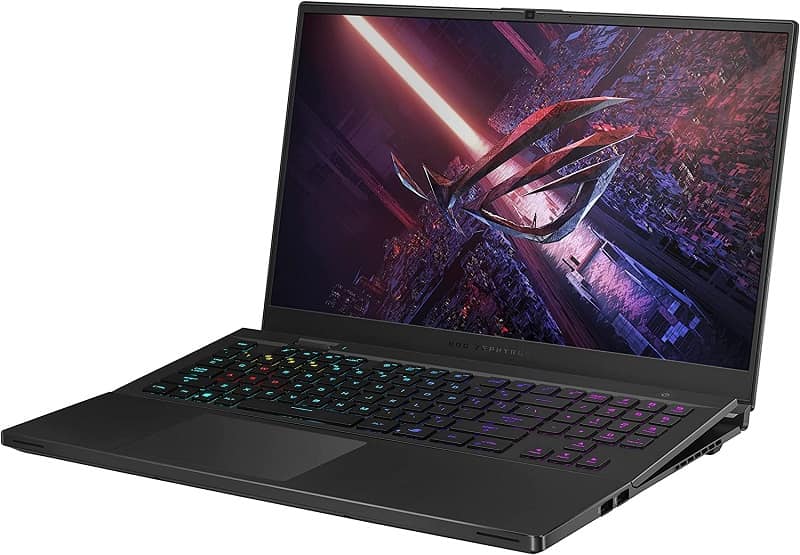 ASUS Zephyrus S17 (4K, 120Hz, RTX 3080)
Graphics
Nvidia GeForce RTX 3080 (100-140W)
Final Word
We hope this guide has helped you make your V Rising laptop dreams a reality. Do make sure you check out our various other V Rising guides from the V Rising hub page, some of which you will find listed alongside this article.